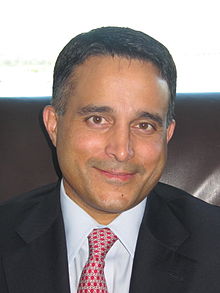 Raj Date, the deputy director of the Consumer Financial Protection Bureau, will leave the agency he helped to establish on Jan. 31.
Date joined the agency in 2010 as an adviser to Elizabeth Warren, who is often recognized as having come up with the idea for the CFPB. He led the CFPB from shortly after its operational beginning in August 2011 until January 2012, after which time President Obama appointed Richard Cordray as director.
Before coming to the CFPB, Date worked for Deutsche Bank and Capital One. He founded the Cambridge Winter Institute, a think-tank organization that advocated financial reform, in 2009.
Date will stay on until "after the CFPB finalizes the slate of mortgage rules" mandated by the 2010 Dodd-Frank Act.  Including the Qualified Mortgage rule  The "qualified mortgage" rule is designed to protect American consumers from abusive lending practices that helped fuel the recent housing crisis. The rules are likely to become part of the agency's signature projects, though if the regulations are written too strictly, stakeholders warn that the rules could cause the market for home loans to dry up.
Agency spokeswoman Jennifer Howard confirmed Date's departure, but said he has not announced his future plans, "other than to spend more time with his family." His departure is timed to coincide with the completion of the agency's pending rules on mortgages. "Raj has spent more than two years building the agency at a breakneck pace, playing a number of key leadership roles," CFPB spokeswoman Jen Howard stated