CORE (Cognitive Operational Risk Evaluation)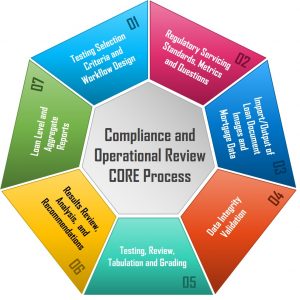 Cognitive Options offers thorough and targeted reviews on various aspects of a firms operations.  Regardless of the entity (loan servicer, originator, investor, etc) we undergo extensive audits and tests of random and pre-determined loan samples.  Cognitive Options offers its clients the benefits of its proprietary technology (Cognitive Operational Risk Evaluation "CORE") designed to standardize the operational analysis of loan originators and servicers across multiple asset classes.  The CORE review include the following:
Originator Analysis
Onsite review of the entity's mortgage production and servicing operation. The review includes an evaluation of processes and procedures, staffing, controls, systems, financial management reporting and relevant support functions.
Interview senior management and key managers and supervisors in each functional area of mortgage production and servicing operations to assess their capabilities and gather information on lending operations and mortgage banking opportunities and problems.
Evaluate the loan origination and servicing systems as set­‐up and used by lending and servicing personnel to understand the ability of the systems to support improved procedures and workflows.
Servicer Analysis
Servicing Comments Reviews
Payment History Reviews
Gap Analysis Analysis
Third Party Risk Management Analysis
Policy and Procedure Development Analysis
Financial Strength and Liquidity Analysis